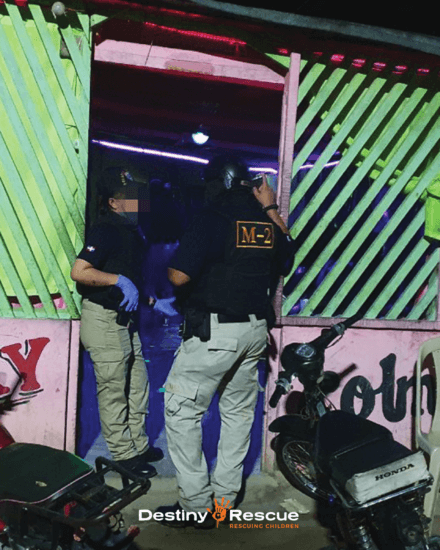 Five children rescued in the Dominican Republic
---
Operations in collaboration with multiple law-enforcement agencies rescued three 17-year-old girls and their two babies from sex trafficking.
This operation was particularly dangerous as the location was also known for drug trafficking and gang violence. The bar owners were selling all three teenagers to customers for sex. The girls were abused in small back rooms or taken off-premises by customers for a higher fee.
The mission was successful thanks to multiple government agencies, a police SWAT team and child welfare services in addition to the non-government collaboration of Destiny Rescue and International Justice Mission.
The children were placed in the care of CONANI, the government's child welfare services. The infants were not being abused but were present during their mothers' exploitation which put them at extremely high risk. Three individuals were arrested.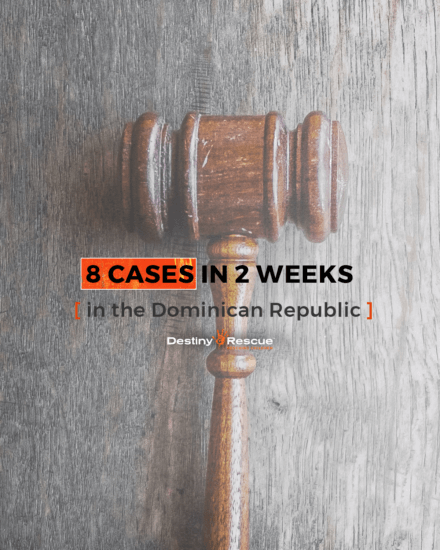 Agents close eight cases in two weeks in the Dominican Republic
---
Agents assisted law enforcement teams and closed eight cases involving minors ages ten to 16.
Read more

Agents provided surveillance and interview assistance for six rape cases. One of our female agents, a psychologist, assisted with survivor interviews. We also aided in securing the arrest of the seven alleged perpetrators connected to the cases.

The other two cases involved sexual exploitation and child marriage. Local child welfare in the Dominican Republic (CONANI) will manage the next steps for the survivors.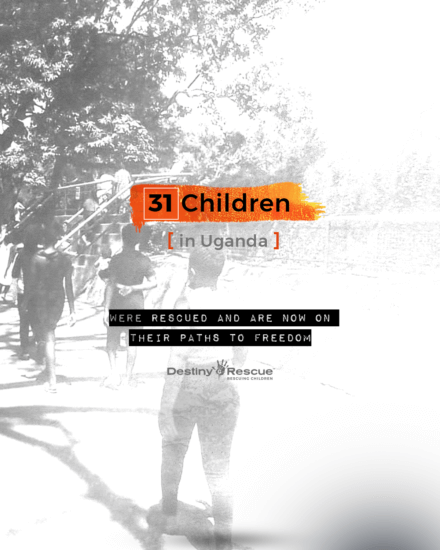 31 children rescued in Uganda and on their paths to freedom
---
31 girls ages 14 to 17 have been rescued from sexual exploitation and joined our community care programs in Uganda
Read more

A major vulnerability shared by survivors in Uganda is an unstable home. It is not uncommon for a survivor to pass through numerous living situations involving different or absent guardians.

Of the 31 children rescued, only one child lived with both parents, and eight lived with a single parent. The rest were being cared for by relatives or lived on their own.

Our programs after rescue focus on a child's unique situation to help her stay free. Our caseworkers and counselors might focus on repairing and strengthening strained family relationships. Older survivors are also able to learn vocational skills or do training on the job so they can afford rent with safe roommates.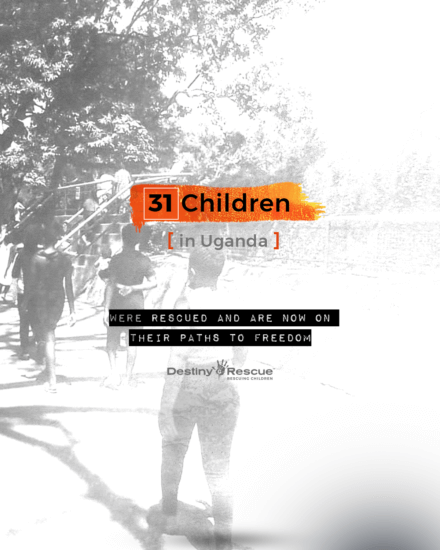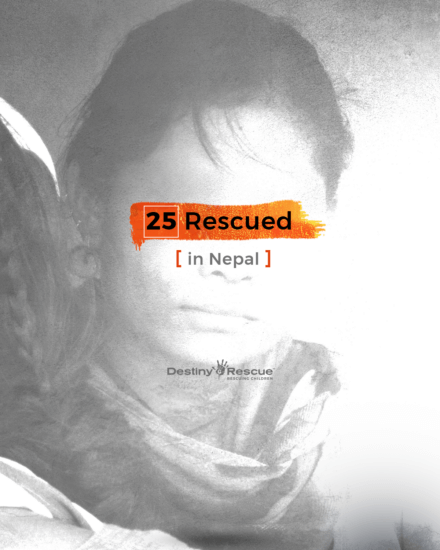 25 rescued in Nepal
---
Agents in Nepal rescued 23 people at the border. Their efforts also ensured safety for two other survivors of sexual abuse and facilitated the arrest of their abusers.
Read more

A mother and her four-year-old son were among those rescued at the border. Nine of the survivors were children ages 15 to 18.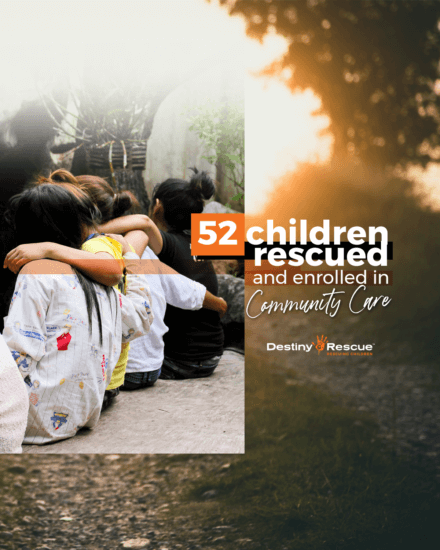 52 children rescued and enrolled in community care
---
Over the past few weeks, the survivors, ages eight to 17, have attended our initial trauma-rehabilitation program and begun the first steps of their freedom plan.
Read more

These rescues occurred in South Asia. Almost all of the survivors were being sexually exploited and abused in exchange for funds needed to survive.

Five of the survivors were eight years old.

Our program in this region focuses on trauma rehabilitation and training programs that help families break free from extreme poverty. In cases where a very young child is rescued, our freedom plan focuses on providing training opportunities for her guardian so that the child can attend school and the family is able to afford necessities such as food and shelter.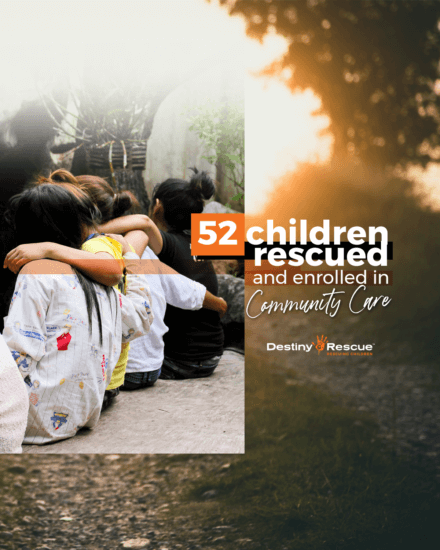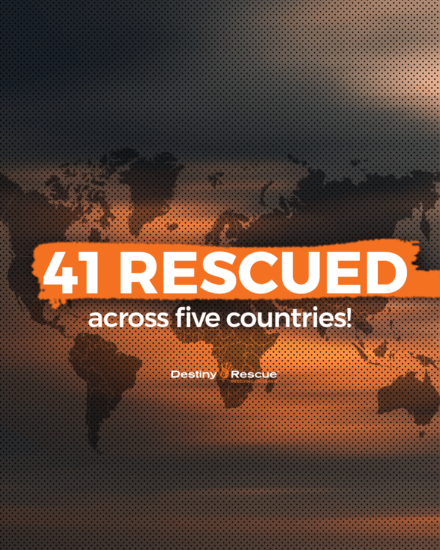 41 rescued across five countries!
---
Raid, border and covert rescues brought freedom to women and children in five different countries.
Read more

Raid operations in collaboration with the police brought freedom to 12 people in two different countries. Among those rescued were five children.

Eight girls and young women ages 14 to 21 accepted our team's offer of freedom and joined our community care program in Cambodia. One 14-year-old girl was rescued in Thailand.

Border agents in Nepal rescued 20 people from human trafficking including a 10 and 12-year-old girl.
You can make the next rescue possible!
You can rescue a child and help her stay free!
Give Now
Load More