"What is something you are proud of recently?" asks a Destiny Rescue translator to a survivor in our care.
The question is translated into her native language of Khmer. She blinks and then knits her brows. The translator rephrases the question, but she still appears confused. She and the translator talk for a minute before the translator turns to our social worker and says.
"She doesn't know the explanation of the word "proud". Can I explain it to her?"
The girl, Nuon, is 17 and until this moment, it appears she has never encountered or understood the word "proud" in her first language.
This would mean she has never been able to reflect on her life using it or heard someone say it to her. The entire concept of the word was non-existent in her childhood.
A hard past
Nuon grew up without a father. "My mom and my older brother were responsible for raising me," she says.
Fending for themselves, her family always struggled financially. Nuon did all she could to help her family and started working at a local shop at a young age.
When she was 15, her neighbour helped her get a job at a beer garden and karaoke bar.
After months in this dark place, Nuon met a man with a different agenda to a typical customer. He was one of our rescue agents. He was not there to buy her or take from her but instead, he had something to give her. He asked her about her life and interests before telling her about Destiny Rescue.
"I discussed it with my friend, I said, 'Should go to that organisation?' My friend said, 'Maybe you can try.' so I decided to try."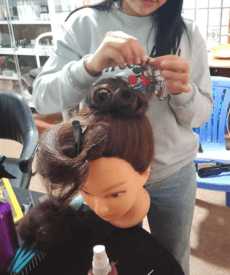 A new and difficult chapter
Nuon accepted our offer of freedom before coming to live in one of our residential homes in Cambodia. Our caseworkers put together a freedom plan that suited her situation and needs. She attended classes at our learning center and began to pursue salon training.
Daily life for her was not easy.
Although she was physically rescued from the bar, she could still not find true freedom until we addressed the vulnerabilities that led her to being initially exploited. These can include poverty, debt, self-worth and a cultural stigma, which can keep a tight grip on a girl's heart long after she is removed from a bar or brothel. Helping girls break – and stay – free from all that held them back can be a long and difficult process.
As a child, Nuon did not attend school regularly and never learned to read or write. "Some of my friends… told me 'You should not choose learning salon because you do not know the Khmer language, you don't know how to read and write."
With these discouraging words ringing in her ears, Nuon ran away after less than a month in our home.
I went back to work in the same old place," she says.
Nuon's broken heart believed the lie that she was good for nothing else.
The middle, not the end
"At that time, many staff here ask me to come back, but I always give the excuse that I am not well."
Nuon's story does not end there. Six months after her first rescue, the same rescue agent walked into the same bar and recognised Nuon. They reconnected and this time, she was ready to make a final exit.
Our staff welcomed her back with open arms. Their patience and love flows freely, a reflection of Christ's redemptive work and grace in their own hearts. Because of this, second chances do not run out even through the many ups and downs children experience while working through trauma.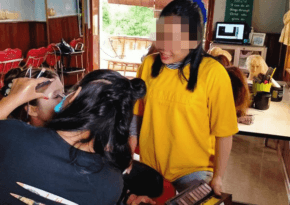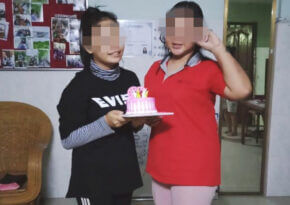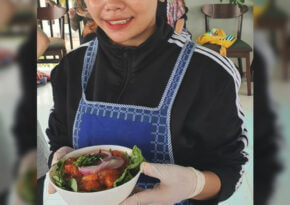 After Nuon's second rescue, she rejoined our programme and began attending classes.
"At this time, I stopped listening to my friends. They told me not to try to study but I did not listen to them…I think that this time, I am going to give the commitment and will achieve this training."
Sharing this information with our social worker stirred up emotion in Nuon. "Sometimes, I feel upset with my studies," she whispered through tears. Each day that she shows up to class is a milestone victory for her.
After six months in our programme, we see her commitment taking root. It is growing into a personal strength and increasing her sense of worth. She stands out as a leader in her interactions with the other girls.
Nuon turns her struggles into an opportunity to help other survivors.
I want to encourage the new friends that will join Destiny Rescue, I encourage them to keep going, to finish their training…do not give up."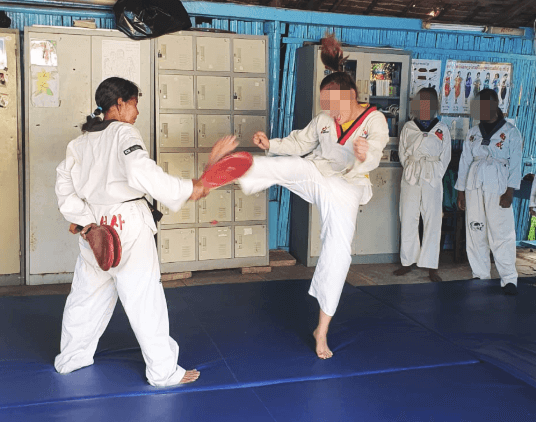 Proud
Once she understood the meaning of the word proud, Nuon reflected for a moment and then shared, "I am so proud of myself that I am a friendly girl and always want to help other people." This self-assessment is accurate and aligns perfectly with her dreams for her future, "Opening a salon to help other girls who have nothing."
Nuon was found again because rescue agents remained relentless, and she is staying free because she did not give up.
She is currently thriving because our reintegration staff give her continual grace and unconditional love.
The never-ending work of rescue and reintegration is fuelled by the generosity of our donors. Your gifts will make a life of freedom possible – even for girls who do not realise they deserve it yet.
Special thanks to Nuon for sharing her story in this way and giving consent for its publishing and use of her photos.
Her name has been changed to protect her identity